Stephen Hepworth
Photography
Commercial & Editorial Photography in the centre of the UK
Brough Business Centre, Hope Valley, Sheffield, S33 9HG
Tel 07973 142 481
Directions to Studio
Brough Business Centre is near Bradwell in the Hope Valley, near Sheffield.
Using Satellite Navigation
Location: Brough, Hope Valley, Derbyshire Postcode: S33 9HG
Grid Ref: SK187821 Lat: 53:20:10N (53.33598) Lon: 1:43:11W (-1.71967)
From the south / Bradwell using the Post Code S33 9HG.
The sat nav should bring you to the entrance to Brough Business Centre
See below ****
From the east / Sheffield using the Post Code S33 9HG.
The sat nav may say that you have reached your destination a little too soon,
while you are still on the A6187.
You may then need to turn left at the Travellers Rest pub onto the B6049 towards Bradwell.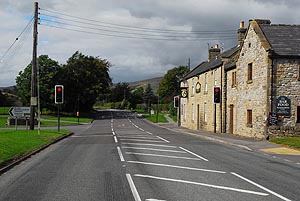 You are now in Brough.
Cross two narrow bridges and after 200 yards turn sharp left into Brough Business Centre.
(If you are on a straight stretch of road towards Bradwell, you have gone too far.)
****
| | | | | |
| --- | --- | --- | --- | --- |
| | | | | |
Drive past the barrier. The studio is at the far end of the court yard to your left.
Parking
Please drive up to the studio and park immediately outside or as near as possible.
If the barrier is closed (at weekends), please park near the main gate.
Directions updated October 2007